Practice Perfect 648
The TV Reality Show Podiatry Wanted – My Feet Are Killing Me Part 2: An Interview with Titan Games Podiatrist Brad Schaeffer, DPM
Last week we introduced you to a television program that we hope will do wonders for the podiatry profession: My Feet Are Killing Me. If you haven't seen the show yet, click here to see a preview. You can also check out last week's PRESENT NewsFlash.
My Feet Are Killing Me highlights the podiatry profession through the work of two young podiatrists as they care for their patients. This program also demonstrates the incredible effect they have on their patients. Last week, we talked to Ebonie Vincent, DPM, and this week we are highlighting the other half of My Feet Are Killing Me, Bradley Schaeffer, DPM.
Dr Schaeffer is a 2011 graduate of the Temple University School of Podiatric Medicine in Philadelphia. He then did his three-year surgical residency with rearfoot reconstruction and ankle surgery certificate at the Hoboken University Medical Center program in New Jersey, graduating in 2014. Dr Schaeffer feels that the training he received during school and residency has given him the skills to "do it all."
Currently in practice at Family Foot and Ankle Specialists as an associate to Dr Peter Wishnie, the strong training is part of what Dr Schaeffer hopes to portray about the podiatric profession through the TV program. He also wants to demonstrate the reconstructive surgical side of podiatry to the viewers of The Learning Channel (TLC) and viewers in general. He wants to show that, "We are top notch in our specialty," showcasing not only reconstruction but also podiatric care of traumatic injuries in addition to the real human interactions that are possible as a podiatric provider.
Dr Schaeffer easily distinguishes himself as not only a quality provider of expert lower extremity surgical and nonsurgical care but also as a human being who connects with his patients, revealing the humanistic side of his personal life philosophy. Like many podiatrists, Dr Schaeffer is an honest, down-to-earth person who relates well to his patients as people rather than disorders that need to be fixed. He enjoys that the profession allows him to show his sense of humor and well-rounded life experiences.
These attributes are well exemplified in My Feet Are Killing Me with his interaction with the patient who sustained a second Achilles tendon rupture due to nonadherence. He thanks the patient for being such a good patient…."the second time." Anyone who watches this interaction will see Dr Schaeffer's warmth and sense of humor in addition to the strong medical and surgical care he provides.
Dr Schaeffer attributes much of his patient care philosophy to his upbringing by hard working parents who sometimes worked extra jobs to be successful. Learning resilience from his parents allowed Dr Schaeffer to persevere through college and podiatric medical school.
In a unique turn of events, Dr Schaeffer was a contestant on the Dwayne Johnson's (aka The Rock) TV show The Titan Games. Of 100,000 people who applied, only 100 were brought to Los Angeles, and this was narrowed down to a final 16 contestants, of which Dr Schaeffer was one.
He is very proud of how far he got in the competition, especially considering he wasn't originally seeking to be a contestant.
Producers of The Titan Games found Dr Schaeffer through his very successful Instagram feed (doctor.bradley). With 71,000 follows, his feed promotes a positive, honest view on life, team-orientation, respect for others, with an emphasis on fitness and a healthy lifestyle, as well as his work as a physician.
These unique experiences have prepared Dr Schaeffer well to be an excellent spokesperson for the podiatric profession. His positive perspective on life and the podiatric profession is well partnered with Dr Vincent's West Coast optimism and compassion. These are two fantastic representatives of podiatry.
Dr Schaeffer has a view similar to Dr Vincent on marketing the podiatric profession to the younger generations. He advocates for taking a personal approach to promoting podiatry to potential medical school applicants by being an example. He feels taking a personal approach will demonstrate what one can do as a podiatrist, as well as the many practice options available, whether it is as a surgeon or general practice clinician. "You can get what you want out of the field," he asserts. With podiatry, Dr Schaeffer states, "The world is your oyster."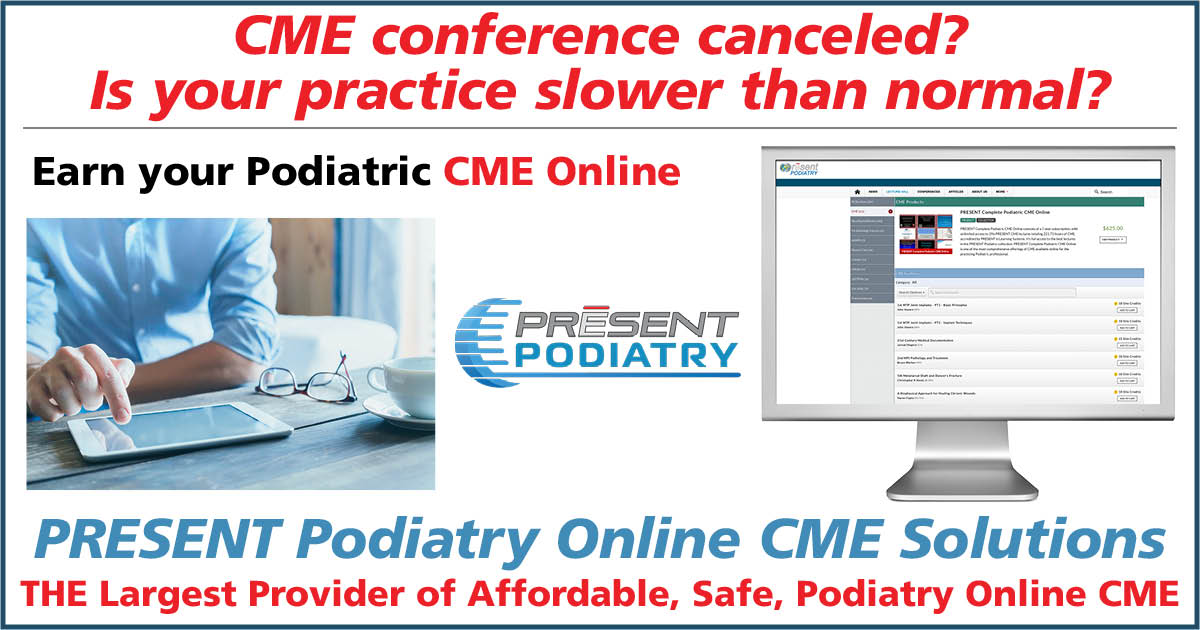 Clearly Dr Schaeffer's optimistic and balanced view on life, which is similar to Dr Vincent's family-oriented viewpoint, is something that would bring many young professionals to podiatry. Let's wish these two young physicians great success on their new program and allow them to be the excellent advocates of the profession that they already are.
Best wishes.
Jarrod Shapiro, DPM
PRESENT Practice Perfect Editor
jarrod@podiatry.com